Lyons, Suzi and Galvin, Brian (2012) Latest NDTRS drug treatment data now available online. Drugnet Ireland, Issue 40, Winter 2011, p. 11.
New drug treatment data for 2009 and 2010 from the National Drug Treatment Reporting System (NDTRS) are now available on line through the National Documentation Centre on Drug Use (NDC) website athttps://www.drugsandalcohol.ie/.  The addition of this new data means that that there are now seven years of drug and alcohol treament data available through the NDTRS interactive tables.   Once on the site, click on the TREATMENT DATA tab.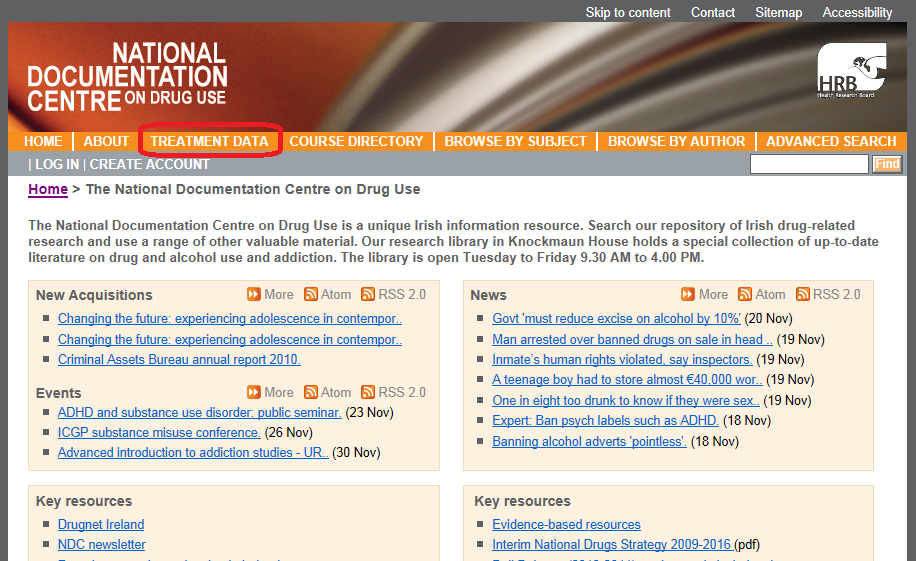 You will be asked to log in, if you do not already have an NDC account, you can create one now.

You will be asked to accept a number of terms and conditions of use. This is needed to protect the identity of clients included in the NDTRS. We also ask that the NDTRS is acknowledged when data from the tables are used in a publication or presentation, and that the NDC receives copies of any publication in which these data are used. 
When interpreting the data, it should also be remembered that each NDTRS record relates to a treatment episode (a case) and not to a person, as there is currently no unique health identifier. This means that the same person could be counted more than once in the reporting year if they had more than one treatment episode in that year.
You can run different analyses on the treatment data based on up to eight different types of drug, including alcohol, in various combinations. The variables available for analysis include year, age group, gender and geographical region of residence (county, HSE region, LHO, regional or local drugs task force area). Your analysis can then be exported into Excel.
For further information contact the NDC at 012345175 or at ndc@hrb.ie 
Irish-related, Open Access, Article
Repository Staff Only: item control page