Lynn, Ena (2011) Twelfth annual Service of Commemoration and Hope. Drugnet Ireland, Issue 37, Spring 2011, p. 8.
On Tuesday 1 February, the Family Support Network held its twelfth annual Service of Commemoration and Hope, entitled 'Reclaiming Family Through Rehabilitation', in remembrance of loved ones lost to drugs and related causes and to publicly support families living with the devastation that drug use causes. 
The service in Our Lady of Lourdes Church, Sean McDermott Street, was attended by President Mary McAleese, Mr Pat Carey TD, Minister of State, Commander Mick Treacy, aide de camp to the Taoiseach, and Bishop Eamon Walsh and other religious representatives, as well as family members, friends and representatives from family support groups throughout the island of Ireland and in Scotland, and many people working in this area.
Sadie Grace of the Family Support Network highlighted the important role families play in the rehabilitation process, and the need for rehabilitation services to recognise that families also require help and support. She said it was important for the next government to prioritise the drug issue and the value of family support.
Minister Carey, in an emotional speech, stated that the Family Support Network is a vital part of the National Drugs Strategy, and emphasised the importance of the single strategy on alcohol and substance misuse being delivered as soon as possible.
President McAleese recited the poem 'For Lost Friends' by John O'Donohue. Bishop Walsh, Fr Edmond Grace and Ruaidhri McAuliffe, representing the drug users' forum UISCE, also addressed the gathering.
For many families, this service is the first time that they can openly grieve for their loved ones lost to drug use and related causes. Personal testimonies were given by members of family support groups, reflecting the support received through these groups. Music was provided by the Gardiner Street Gospel Choir.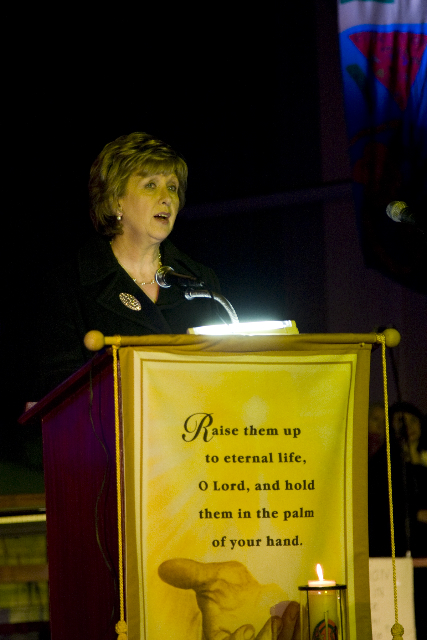 President Mary McAleese speaking at the service
Irish-related, Open Access, Article
Repository Staff Only: item control page