Kartalova-O'Doherty, Yulia (2010) 'What's the point?' A conference on understanding suicide and supporting life. Drugnet Ireland , Issue 35, Autumn 2010 , p. 13.
The aim of this conference was to bring together various professionals in suicidology and people who have had a direct encounter with suicide, themselves or through friends or relatives, in order to review the impact of suicide on society, to reflect on current policy and research in this area, and to discuss what helps to prevent suicide. Held in Dublin City University's Helix theatre on 18 June 2010, the conference was organised by the DCU School of Nursing, Shine (a part-voluntary organisation supporting people with mental illness and their families) and St Vincent's Hospital, Fairview.  
The panel and audience included representatives of the three hosting organisations, as well as other public, private, voluntary and part-voluntary bodies. There were speakers and guests from the National Office of Suicide Prevention (NoSP), the Royal College of Surgeons, the Irish Association of Suicidology, the National Service Users Executive (NSUE), Bodywhys (the Eating Disorder Association of Ireland), Mental Health Ireland, GROW, Headline (the national media-monitoring programme for mental health and suicide), the Health Research Board, and other organisations.
Mr Geoff Day, CEO of NoSP, presented alarming WHO statistics that one suicide occurs globally every minute, and one suicide attempt every three seconds.1 In Ireland, the highest rate of suicide is among males aged between 20 and 24 years; the highest rate for females is among those aged between 50 and 54 years.2  Among the multiple risk factors for suicide are mental illness; having made a previous suicide attempt; substance misuse; physical illness; personality traits; being unemployed; socio-economic deprivation; unplanned pregnancy; and abortion. Protective factors include efficient coping skills; seeing reasons for living; physical health; good family communication; supportive schools; good social support; religious affiliation; employment; and access to quality health treatment. Suicidal states and recovery from them constitute a unique interaction of individual existential, emotional, cognitive, behavioural, physical, family, social, and economic factors.
While there is no 'one-size-fits-all' strategy for preventing suicide, the approach taken by professionals and policy-makers can influence how a person deals with suicidal feelings. Mann and colleagues3found that factors associated with reduction of suicide rates were GP education on suicide; development of coping and problem-solving skills; education of the community; and regulation of the quantity of medication such as paracetamol sold without prescription. An Irish study4 developed the theory that, among young Irish males, transcending suicidality meant changing orientation from death towards life, which required an inner struggle towards accepting oneself as worthy of life. Professionals who acknowledged such struggle and worked together with clients to overcome their fears and concerns were perceived as the most helpful.
The conference highlighted that the circumstances of each individual case are complex and multifactorial. Being wealthy and healthy does not guarantee protection from suicidal feelings at any stage of one's life. Whereas a lot of data on suicide are published nationally and internationally, there is a lack of research on understanding individual contexts and recovery from suicidal states. A deeper understanding of these aspects can help us to develop better suicide prevention strategies. For more information about the conference please contact
shanola@svhf.ie
or
ykartalova@hrb.ie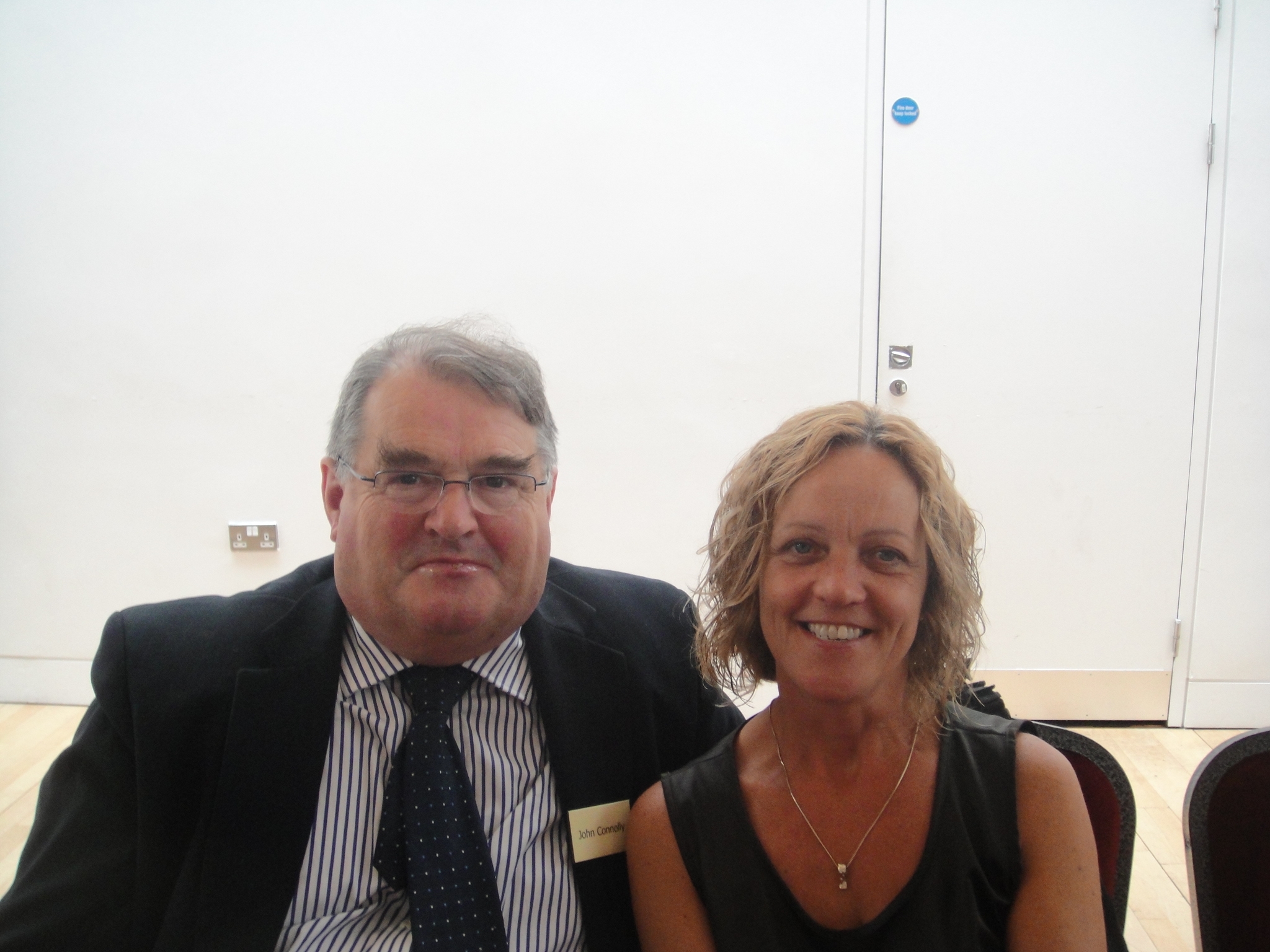 Dr John Connolly, Irish Assoication of Suicidology, and Dr Evelyn Gordon, DCU, pictured at the conference.
4. Gordon E (2010)
Re-vitalizing worthiness: a theory of transcending suicidality among young men.
PhD thesis, Dublin City University. Retrieved 15 July 2010 from
http://doras.dcu.ie/15083
Irish-related, Open Access, Article
Repository Staff Only: item control page