Lyons, Suzi (2010) Guidebook on case management in homeless and drug services. Drugnet Ireland, Issue 34, Summer 2010, pp. 9-10.
The Homeless Agency has published a case management guidebook for those working in the area of homelessness and drugs.1 The guide is intended as a companion to the Holistic Needs Assessment and Care Plan, the assessment tool developed by the Homeless Agency. The guide and its accompanying protocols were piloted among those working with the homeless, and their feedback was incorporated into the final document. The online version of the guide will be updated as necessary to ensure that the information is up to date. 
There are three sections in the guidebook: key support interventions, interagency protocols and a listing of services. Among the 12 key support areas covered in separate chapters are mental health, alcohol use and drug use. These three chapters are summarised in this article.
Mental health
Chapter 9 covers how to access mental health services, with a section on dual diagnosis (of both addiction and mental health problems). The role of the service provider outlined in the document is to make appropriate referrals, either to a GP or to the psychiatric services (within the addiction services). Other areas covered include how to make an application for involuntary admission to psychiatric care of a person deemed to be a risk to themselves or others, dealing with exclusion from the drug services because of mental health issues, and non-compliance with medication.
The second part of the mental health chapter deals with suicide and deliberate self harm, and how the service provider should handle such issues. The association between mental health problems and suicide is well known, and although self harm is not necessarily associated with suicide, it is an indicator of mental health issues.
Alcohol use
Chapter 10 cites evidence that alcohol, frequently combined with drugs, may be the most widely misused substance among homeless people. The key interventions identified are access to detoxification and access to rehabilitation and supports. This chapter also deals with the issue of a service user who is misusing alcohol while on prescribed methadone. The guide advises that in cases of polysubstance use an alcohol detoxification should be carried out before an opiate detoxification, but that problem use of cocaine or amphetamines may have to be addressed before that of either alcohol or opiates. Any interventions should be made with the support of the prescribing doctor, with aftercare in place, along with a relapse prevention plan, including social support from family and friends.
Drug use
Chapter 11 outlines key interventions in drug treatment services, stressing that they should be seen as a continuum of care across services (Figure 1). The interventions are: harm reduction services, methadone treatment, stabilisation services, detoxification, rehabilitation (day and residential), aftercare and support services. Some of these interventions are summarised below.
Harm reduction
The guide states that, as many problem drug users start injecting before accessing formal drug treatment, it is important that the service provider ensures that clients have access to harm reduction information and services in order to reduce drug-related harm. Such resources may be accessed through a client's own service or by referral to another appropriate service. This section summarises the types of intervention typically provided by harm reduction services.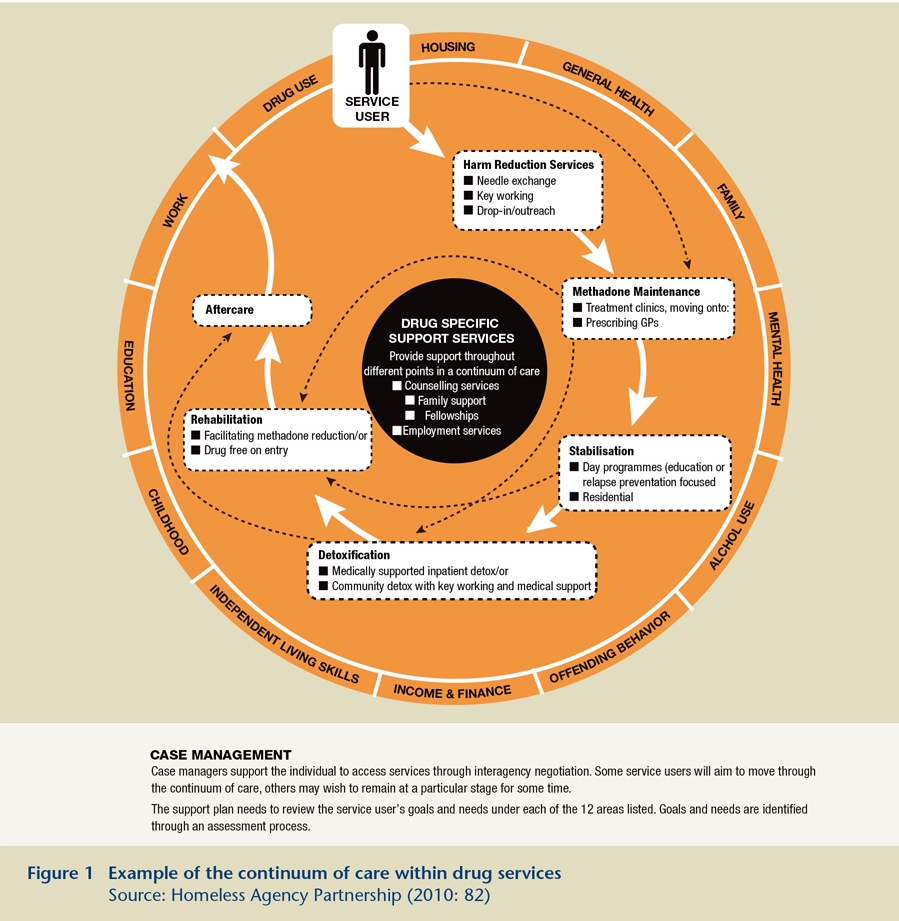 Methadone treatment
This section gives the service provider an overview of the issues around methadone treatment, including assessment, changing a prescription, take-aways and polydrug use. It includes practical advice, for example what documentation the client needs when attending an assessment of suitability for treatment.  
Stabilisation services
Stabilisation in this context is taken to mean compliance with a methadone treatment programme. This process requires the support of different services, such as counselling, relapse prevention or day programmes to assist and support the client. This section outlines some of the different options and how to access them.
Detoxification
In general, a person must be on a reduced daily dose of between 40mg and 60mg of methadone in order to qualify for residential detoxification, according to this guide. The criteria for other facilities vary, for example some require the person to be alcohol free or benzodiazepine free before entry. Inpatient facilities give priority to medical emergency cases (the nature of the emergency is not specified), and to people who are pregnant or are under the age of 18. While benzodiazepine detoxification can be carried out by a GP or by the doctor prescribing methadone, the guidebook notes that doctors are not obliged to carry out such detoxification in the community. 
Interagency protocols and listings
The protocols presented in this section were developed to help multiple agencies work together and ensure that individuals did not fall through the gaps in service provision and also to improve the outcomes for those accessing the homeless services. The listings section provides information and contact details for all relevant services currently available.
1. Homeless Agency Partnership and Progression Routes Initiative (2010) Case management guidebook. Dublin: Homeless Agency Partnership
Irish-related, Open Access, Guideline, Article
Repository Staff Only: item control page