Long, Jean (2010) Newly diagnosed drug-related viral hepatitis infections in 2008. Drugnet Ireland , Issue 33, Spring 2010 , pp. 19-20.
Hepatitis B
Hepatitis B is a vaccine-preventable disease which is transmitted through contact with the blood or body fluids of an infected person. The main routes of transmission are mother-to-baby, child-to-child, sexual contact and unsafe injections. The number of cases notified to the Health Protection Surveillance Centre (HPSC) increased each year between 1996 and 2005. In 2006 the number decreased by 7% (to 810) and then increased steadily in 2007 and 2008. There were 949 cases in 2008, of whom 765 had a chronic infection, 82 had an acute infection and the disease status of 102 cases was unknown (unpublished data from the HPSC). The surveillance system has recorded risk factor data since 2004 and the number of cases notified to the HPSC that include data on risk factors has increased from 30% in 2006 to 59% in 2008. In 2008, 59% (557) of all cases had risk factor data reported, of whom seven (1.3%) reported injecting drug use as their main risk factor. The number of such cases remained consistently low between 2005 and 2008, indicating the effectiveness of routine administration of the hepatitis B vaccine. 
Hepatitis C
Hepatitis C is transmitted through contact with the blood of an infected person, the main routes of transmission being mother-to-baby, unsafe injections, transfusion of blood and blood products, and unsterile tattooing and skin piercing. It is one of the most common blood-borne viral infections among drug users. There were 1,537 cases of hepatitis C reported to the HPSC in 2008, compared to 1,128 cases in 2004 (Table 1), and 85 cases of hepatitis 'type unspecified' in 2003.

An enhanced surveillance system for hepatitis C was introduced in Ireland in 2007. Enhanced surveillance is essential to identify risk factors and to inform the development of prevention and treatment strategies. In 2008, 38% of newly-reported hepatitis C cases had risk factor status reported (Table 2). As expected, the majority (76.9%) of these cases reported injecting drug use as the main risk factor. Four per cent of cases said that they had been recipients of blood or blood products at some time in the past and, according to the HPSC, were late reports to the system (N Murphy, HPSC, personal communication, 2009).

In 2007, 85% of cases who reported injecting drug use as their main risk factor were notified to the HPSC by services in Dublin, Kildare and Wicklow and the remainder by services in HSE areas outside these counties (Table 3). Seventy-one per cent were male and 62% were under 35 years old.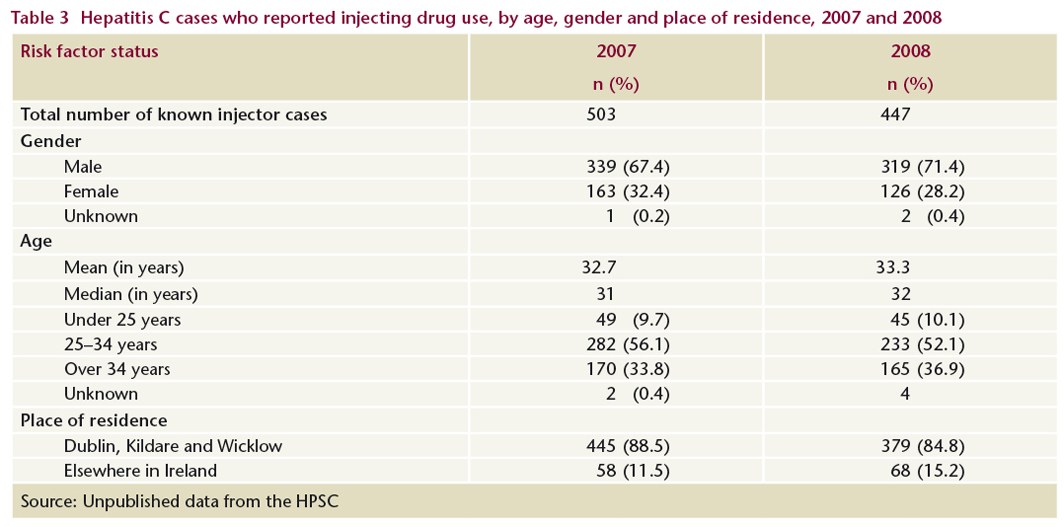 Irish-related, Open Access, Article
Repository Staff Only: item control page