Keane, Martin (2010) Health profile of people using Cork Simon services. Drugnet Ireland, Issue 33, Spring 2010, p. 17.
The Cork Simon Community, which works with homeless people, undertook a health audit of clients using the service in the first week of September, 2009.1  A total of 183 individuals were supported by services throughout the week; 86% were male, 87% had a medical card, and 63% were in receipt of a social welfare disability allowance.  
Table 1 presents a breakdown of the overall figure by type of service used, health status and substance use. Individuals using high-support accommodation were more likely to have a diagnosed physical or mental health condition; all of this group had medical cards, and the group had the highest proportion of people receiving disability benefit. Rates of alcohol use were relatively high among all service users.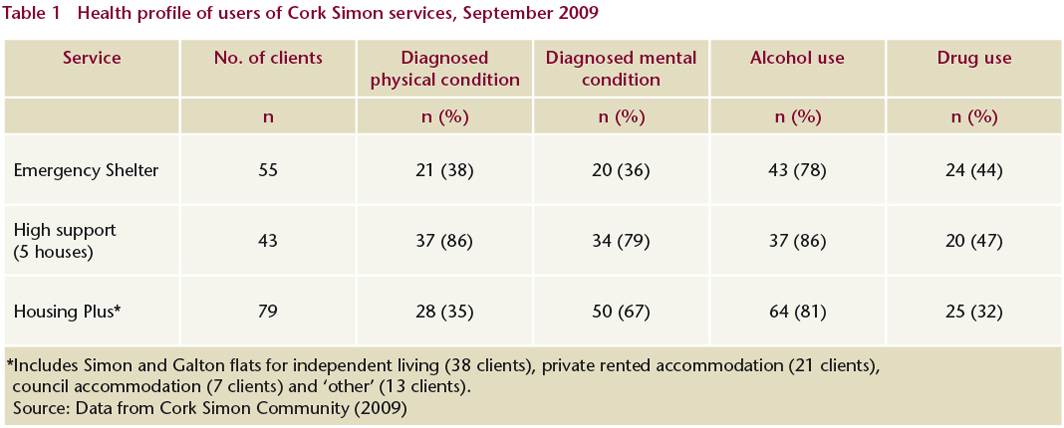 Long-term homelessness
In the week of the health audit, 36% (n=20) of the residents in the Emergency Shelter were long-term homeless, defined by the strategy on homelessness as being in emergency accommodation for more than six months.  All 20 were male; 80% had a medical card; 60% were receiving a disability payment; 55% had at least one diagnosed physical health condition; 55% had at least one diagnosed mental health condition; 90% used alcohol and 55% used drugs; 55% had a diagnosed mental health condition and used alcohol and/or drugs.  
Rough sleepers
Sixteen people were recorded as sleeping rough for at least one night during the week of the audit, of whom six were consistent rough sleepers. Fifteen were male; 50% had a medical card; 31% were in receipt of a disability payment; 56% had a diagnosed physical health condition; 44% had a diagnosed mental health condition; 81% used alcohol and 56% used drugs; 44% had a diagnosed mental health condition and used alcohol and/or drugs.
Conclusion
This snapshot taken by the Cork Simon Community over the course of a week provides useful information on health and related behaviours among homeless people in Cork. Overall, the data paint a picture of poor physical and mental health, high dependence on social welfare payments, relatively high levels of alcohol and drug use and, for some, unstable accommodation. The relatively high prevalence of substance use among people who are long-term homeless and/or sleeping rough may exacerbate their situation and prolong their experience of homelessness. Individuals presenting with diagnosed mental health conditions who are substance users are also a concern. On a slightly brighter note, among the people who are being helped with independent living, the outcomes are less severe, as this group reports lower levels of heavy alcohol use and lower levels of drug use and heavy drug use compared to people in emergency accommodation. This snapshot demonstrates the myriad needs that homeless people with substance use problems can present with and highlights the enduring challenge facing service providers in responding to these needs and reducing the associated harms.
1. Cork Simon Community (2009)
Sick and tired of homelessness: health profile of people using Cork Simon services
. Cork: Cork Simon Community. Available at
www.drugsandalcohol.ie/12798/
Irish-related, Open Access, Article
Repository Staff Only: item control page