Pike, Brigid (2010) How effectively is policy being implemented? Drugnet Ireland, Issue 33, Spring 2010, pp. 15-16.
Concerned at the slow progress in implementing Ireland's national mental health policy A vision for change, launched in 2006, and the consequences for the quality of mental health services available to service users, the Mental Health Commission (MHC) commissioned a study to explore the central issues, present the evidence base for effective implementation and highlight possible ways to speed up implementation. The resulting report was published in November 2009.1  
This article outlines the analytical framework presented in the MHC report. Although intended to be applied in the mental health field, the framework is a generic evidence-based implementation framework, which may be applied equally to other policy domains such as drugs and alcohol policy. It identifies six specific tasks and activities associated with effective implementation:
°       attention to implementation in the policy formulation process,
°       skilled leadership in the implementation process,
°       appropriate support and governance arrangements,
°       adequate resources,
°       a detailed plan, and
°       continuous communication.
These tasks and activities occur in three broad stages – thepolicy formulation process prior to implementation, implementation and monitoring – as summarised in the diagrammatic representation below. The twelve tasks listed in this diagram are elaborated on in the following paragraphs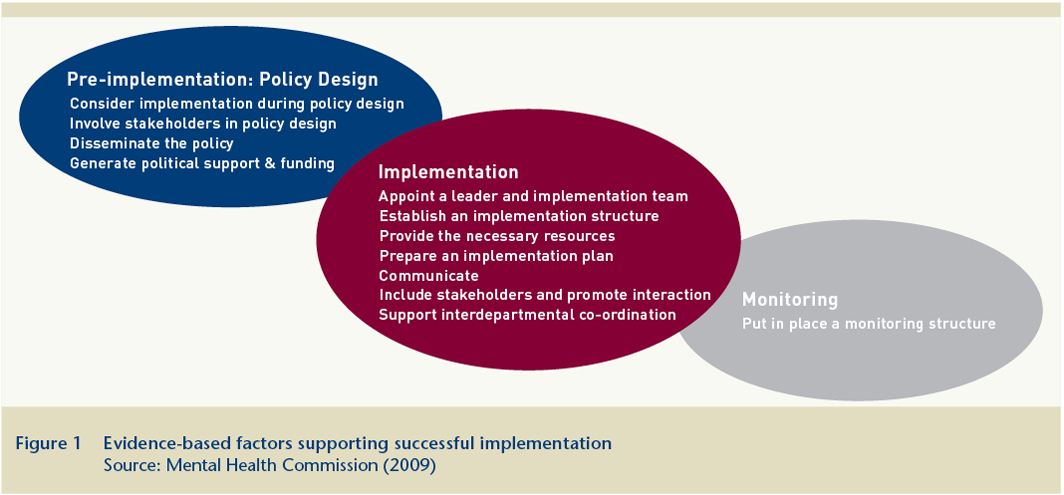 Policy formulation process
1.    Make implementation an important consideration during policy design – this includes identifying different means of achieving policy objectives and identifying barriers to implementation.
2.    Involve as many stakeholders as possible in policy formulation process – including, and consulting with, stakeholders serves to inform the policy and also the implementation of the policy.
3.    Disseminate the policy – all stakeholders need to know about the new policy.
4.    Generate political support and funding – active stakeholder participation and communication activities are important in achieving this. Political leadership and support can be crucial in ensuring implementation. 
Implementation
5.    Appoint a leader and an implementation team – the World Health Organization (WHO) reports that a multidisciplinary team to implement policy has proved successful in several countries.
6.    Establish an implementation structure – This national team should be echoed regionally and locally with, at a minimum, a regional leader and local leaders.
7.    Provide the necessary resources – this includes an appropriately crafted budget, including managing contingency funding and financial risk. It is also strongly recommended that appropriately skilled and experienced financial management personnel should be part of the implementation team.
8.    Prepare a plan – an implementation plan should provide a map of how the policy will be implemented and should deal in sufficient detail with:
°       timeframes, including the different phases for implementation,
°       roles and responsibilities of those involved in implementation,
°       resources, including funding and human resources,
°       risk management, including how any potential barriers to implementation will be addressed,
°       monitoring and reporting requirements.
9.    Communicate – on-going communication is critically important to implementation because it is an effective tool for motivating employees, for over-coming resistance to an initiative, for preparing employees for the pluses and minuses of change and for giving employees a personal stake in the process.
10. Include stakeholders and promote stakeholder interaction – the purpose of stakeholder inclusion in the implementation process must be clear so that the right stakeholders can be identified. For example, is their inclusion to obtain support, to provide a communication channel or to test the design or roll-out?
11. Support interdepartmental co-ordination – Where cross-agency implementation is necessary, the likelihood of effective implementation is greater where there is a high-level implementation plan involving the relevant agencies.
Monitoring
12. Put in place a governance structure – governance arrangements are required to ensure adequate reporting and review mechanisms. Monitoring is essential to determine if the desired outcomes are being achieved and also to identify risks to implementation so that corrective action can be taken.
  1. Mental Health Commission (2009) From vision to action? An analysis of the implementation of A vision for change. Dublin: Mental Health Commission.
Irish-related, Open Access, Article
Repository Staff Only: item control page