Pike, Brigid (2010) Levels of alcohol and drug use are indicators of wellbeing. Drugnet Ireland, Issue 33, Spring 2010, p. 10.
On 7 October 2009 the National Economic and Social Council (NESC) launched a report Well-being matters: a social report for Ireland.1 Speaking at the launch NESC director Dr Rory O'Donnell called for a broader understanding of social progress than simply measuring GDP. The report tracks trends across six aspects of people's lives: their economic resources, their work and education, their relationships and care, their community and environment, their health, and societal values. Alcohol consumption is included as an indicator of health, together with four other behavioural components – smoking, physical exercise, eating and weight.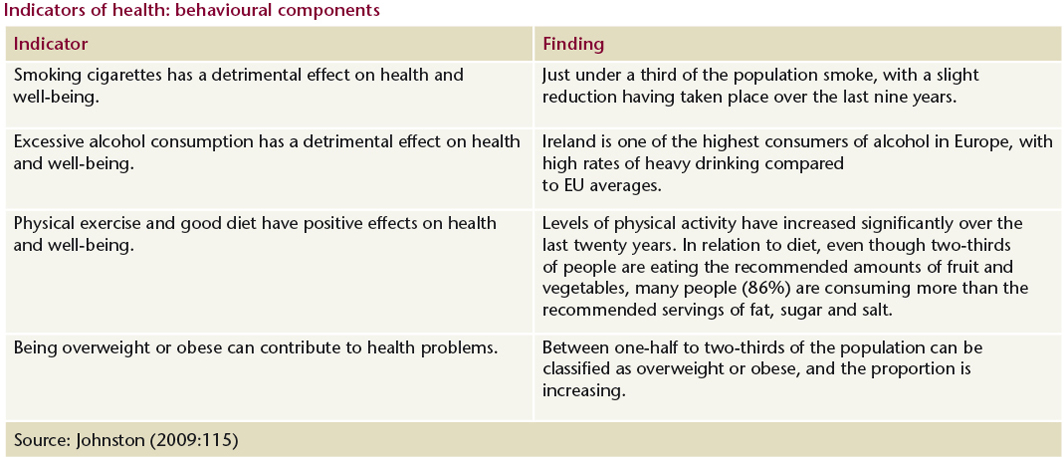 The report's author, Helen Johnston, notes that health behaviours are influenced by a wide range of socio-economic and cultural factors. Some sub-groups of the population are more at risk of poor health than others and have less access to treatments and services. These sub-groups include people with lower educational levels or lower incomes, or who are unskilled. In addition, Johnston cites a recent study2 which 'shows that "inequality seems to make countries socially dysfunctional across a wide range of outcomes" in that "rich" countries with a highly unequal income distribution are more likely to have lower levels of trust, higher levels of mental illness (including drug and alcohol addiction), lower life expectancy and higher infant mortality, higher levels of obesity, poorer educational performance, more teenage births, more homicides, higher imprisonment rates and more limited social mobility' (Johnston 2009: 76).
1. Johnston H (2009) Well-being matters: a social report for Ireland. Report No 119. Volume 1. Dublin: National Economic and Social Council.
2. Wilkinson R and Pickett K (2009) The spirit level: why more equal societies almost always do better. London: Allen Lane.
What is well-being?
A person's well-being relates to their physical, social and mental state. It requires that basic needs are met, that people have a sense of purpose, that they feel able to achieve important goals, to participate in society and to live the lives they value and have reason to value. People's well-being is enhanced by conditions that include financial and personal security, meaningful and rewarding work, supportive personal relationships, strong and inclusive communities, good health, a healthy and attractive environment, and values of democracy and social justice. Public policy's role is to bring about these conditions by placing the individual at the centre of policy development and delivery, by assessing the risks facing him/her, and ensuring the supports are available to address those risks at key stages in his/her life.  
Source: Johnston (2009: xiii)                                                 
Irish-related, Open Access, Article
Repository Staff Only: item control page