Long, Jean (2009) Fall in number of HIV cases associated with drug use. Drugnet Ireland , Issue 31, Autumn 2009 , p. 19.
Voluntary linked testing for antibodies to HIV has been available in Ireland since 1985. According to the most recent report of the Health Protection Surveillance Centre (HPSC),1 at the end of 2008 there were 5,186 diagnosed HIV cases in Ireland, of whom 1,417 (27%) were probably infected through injecting drug use.  
Figure 1 presents the number of new cases of HIV among injecting drug users reported in Ireland, by year of diagnosis; data from 1982 to 1985 were excluded from the figure as these four years were combined in the source records. Figure 1 is based on data reported to the Department of Health and Children, the National Disease Surveillance Centreand its successor, the HPSC.There was a fall in the number of HIV cases among injecting drug users between 1994 and 1998, with about 20 cases per year, compared to about 50 cases each year in the preceding six years. There was a sharp increase in the number of cases in 1999 (69 new cases), which continued into 2000 (83 new cases). Between 2001 and 2008 there was an overall decline in the number of new injector cases (38, 50, 49, 71, 66, 57, 54 and 36 respectively) when compared to 2000. It was difficult to interpret the trend owing to the relatively small numbers diagnosed each year, so a smoother curve (red plot line in Figure 1) was calculated using a rolling centred three-year average. This curve presents a new baseline of between 45 and 65 cases each year.  
Of the 36 new HIV cases among injecting drug users reported to the HPSC in 2008, 27 were male and nine were female, and the average age was 33 years. Twenty-two of the 34 cases with a known address lived in the HSE Eastern Region (Dublin, Kildare and Wicklow).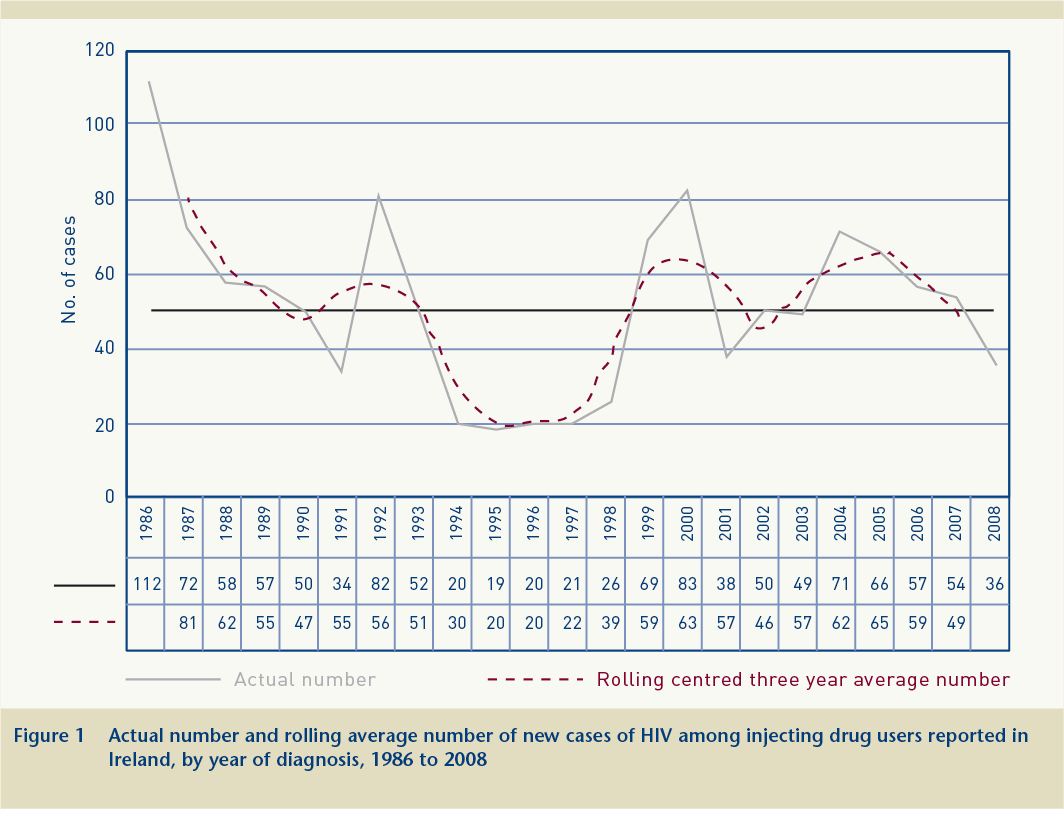 Repository Staff Only: item control page