Long, Jean (2009) Drug tests in Irish prisons. Drugnet Ireland , Issue 31, Autumn 2009 , p. 18.
Information on drug testing in prisons in 2008 was obtained from the Irish Prison Service. These data indicate that more than 20,000 voluntary tests were carried out to monitor drug use and responses to treatment. These tests included those carried out on committals (new entries) as well as those carried out on existing inmates. It may be assumed therefore that some of the positive test results relate to drugs or alcohol consumed outside the prison.  
Between one-third and one-half of those screened tested positive for at least one drug. The common metabolites detected indicated use of cannabis, benzodiazepines and opiates (Table 1). It is not clear whether the numbers of positive cases exclude prisoners who were prescribed benzodiazepines; if they do not, these figures overstate the extent of unregulated use of benzodiazepine in prisons. Cocaine and alcohol were detected in a small number of tests. The profile of positive opiate and benzodiazepine tests indicated moderate use of such drugs among prisoners tested in Mountjoy, Wheatfield, Limerick, Midland and Cloverhill prisons. The proportion of positive tests was low in St Patrick's Institution and in Castlerea and Cork prisons. It would be useful if the test results of prisoners who were tested at committal interview could be removed from this analysis as this would provide a more accurate assessment of drug use in Irish prisons..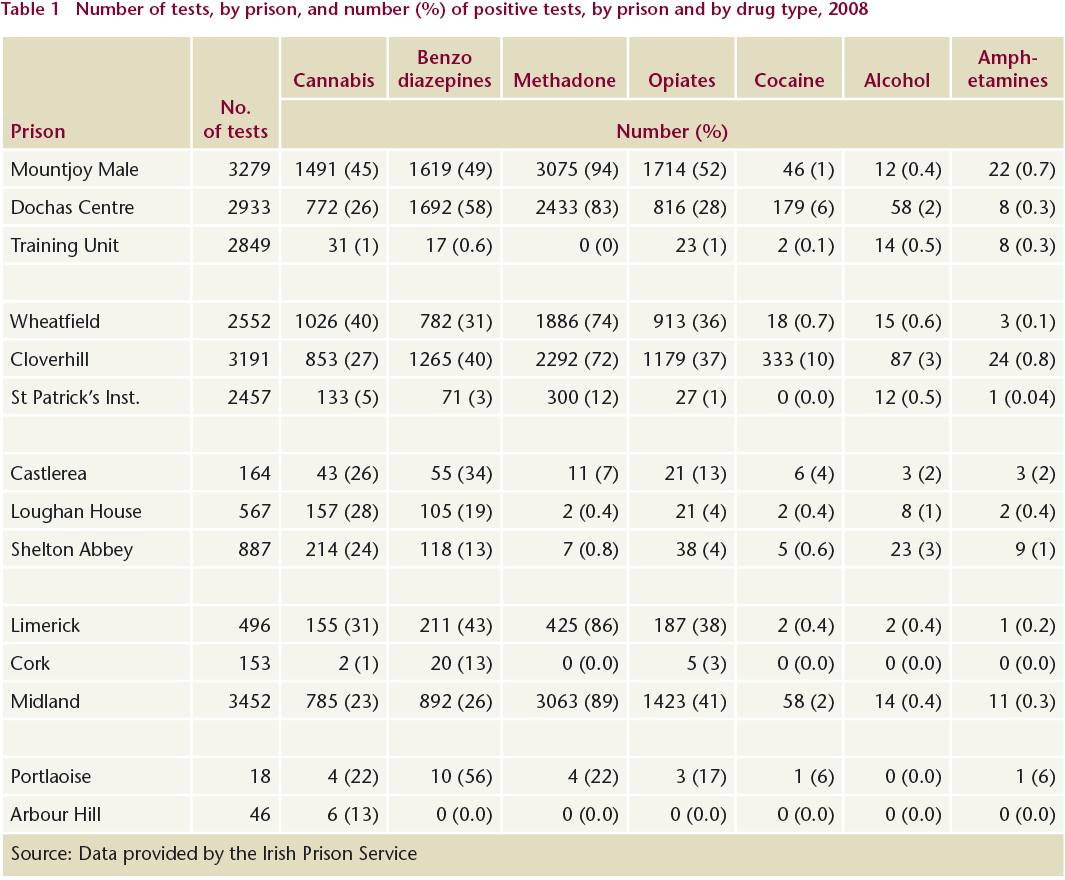 Repository Staff Only: item control page