Pike, Brigid (2007) RDTF strategies and prevention. Drugnet Ireland, Issue 24, Winter 2007, pp. 10-11.
In the last issue of Drugnet Ireland the responses of the regional drugs task forces (RDTFs) to the Supply Reduction pillar of the National Drugs Strategy were considered.1 In this issue, responses under the Prevention pillar are considered. 
The National Drugs Strategy recognises four components of Prevention – education, awareness, information, and prevention, the last encompassing support for the family, and diversionary and structural interventions.2 The strategies of the 10 RDTFs3 display a similar range of understandings of the concept, but highlight the challenge of choosing the right mix of interventions, and providing them at the right time in the right places. Different elements of this challenge are teased out here.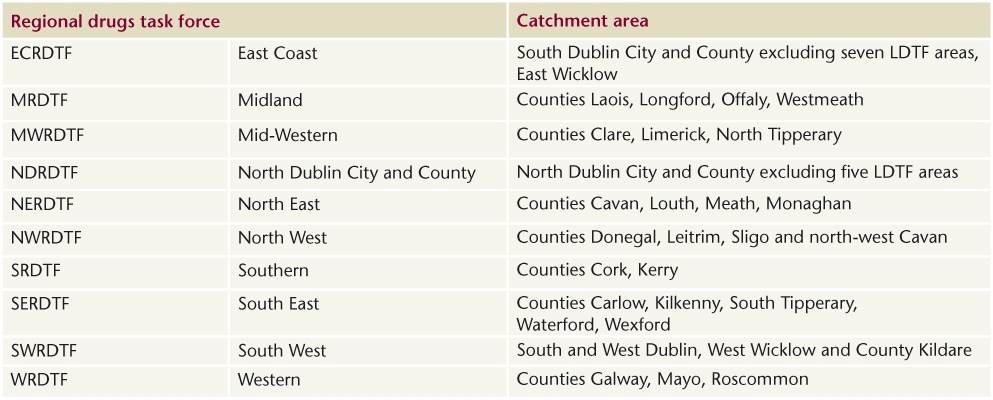 The types of substances being used need to be taken into account. For example, in the north-west, there is a low level of illegal drug use – mostly cannabis and ecstasy – and the principal problems are due to polydrug use, under-age drinking and the extent to which the drug culture and under-age drinking have become intertwined. As a consequence, the RDTF has decided to focus on 'awareness', with two objectives – to raise the levels of awareness of drug misuse and under-age drinking, and to research, compile and disseminate relevant and up-to-date data regarding drug misuse and under-age drinking in the region (NWRDTF: 7).
The age of the target populations and their particular needs also have to be taken into account. One RDTF found that many education/prevention measures were targeting adults (aged over 18), although it was acknowledged that the most vulnerable to developing a drug misuse problem are primarily those under the age of 16 years. The assumption appeared to be that services targeting families and concerned others would equip these individuals to have an influence on their at-risk family members. The RDTF argued: 'The capacity of family members to exert their influence with regard to preventing young people from becoming involved in drugs, or in terms of early identification, may need to be examined to ensure that resources are being deployed in the most efficient and effective manner' (SWRDTF: 37–8). 
Another RDTF noted that older age groups had separate and distinctive needs: 'The focus of drug and alcohol campaigns is often on young people and their risk-taking behaviours, yet it is also important to look at the range of people and age groups who may develop problems. While it may be true to say that very few older people develop heroin problems, they may experience difficulties with alcohol, tranquillisers, sleeping tablets or painkillers. It is important to recognise that people may be experiencing dependence difficulties with over-the-counter medications' (WRDTF: 29).  Having consulted with education and prevention service providers in its region, the SWRDTF reported, 'There is an almost exclusive focus on education as the primary method of prevention, which is worrying given the correlation between drug misuse and early school-leaving' (SWRDTF: 25). Other preventive measures, such as diversion, might be more relevant to this population. 
The location of services and the channels for the provision of prevention services across large regions poses yet another set of challenges. The SWRDTF found wide variations in the range of education/prevention services provided in different settlement areas, with patchy coverage in core urban areas, and progressively lower levels of service provision in sub-urban commuter towns and in rural areas. Conversely, in the ECRDTF it was found that there was an over-supply of education/prevention services in comparison to treatment, harm reduction and rehabilitation services. It was observed that this represented 'a narrow perspective which will need to be widened if the drug problem in the area is to be addressed in any comprehensive or coherent way' (ECRDTF: p. 24). Finding that most services operated on a basis of open access, the ECRDTF suggested this had both advantages and disadvantages: everyone had access to a service but those most in need or those whose needs could best be met by a particular programme might miss out through allocation of places on a first-come – first-served basis. It called for more targeted services, run according to clear aims and objectives, and evaluated to ensure resources are being used efficiently and effectively (ECRDTF: p. 25). 
 Co-ordination of services across extensive regions and the establishment and maintenance of standards were identified as means of coping with the challenges of providing appropriate services. Proposed actions included:
o      appoint a prevention co-ordinator to run a regional education/prevention forum and to research, develop and apply a model of best practice and early intervention;
o      set up a regional drugs education forum;
o      establish a unified standard across the voluntary, community and statutory sectors within drugs education/prevention;
o      increase the level of monitoring and evaluation;
o      provide training of personnel as a way of enhancing the standard of services;
o      support existing addiction studies courses; and
o      fund the development and delivery of a locally-based diploma in addiction studies in conjunction with local service providers and tertiary educational institutions.
1. Pike B (2007) RDTF strategies and supply reduction. Drugnet Ireland, Issue 23: 4.
2. Department of Tourism, Sport and Recreation (2001) Building on experience: national drugs strategy 2001–2008. Dublin: Stationery Office. Section 6.3.
3. The RDTF strategy and action plan documents are held in hard copy in the National Documentation Centre, and are available online at www.hrb.ie/ndc.
Irish-related, Open Access, Article
Repository Staff Only: item control page